PADI DiveMaster Course in Hurghada
PADI DiveMaster Course
Your adventure into the professional levels of scuba diving begins with the PADI Dive master program.
In this program you increase your diving experience and your skills to the professional level. PADI Dive master training will also improve your leadership skills. Furthermore, it allows you to lead dive activities and assist instructors with student divers.
PADI Dive master is also needed before you can start the PADI Assistant Instructor and PADI Open Water Scuba Instructor courses.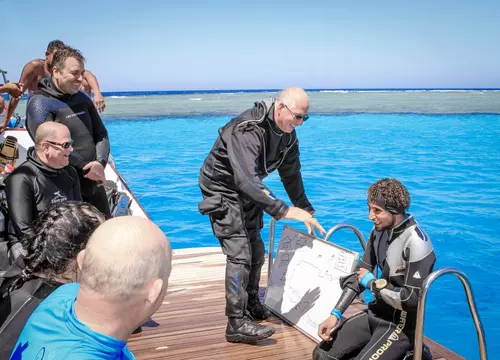 What will I learn?
In addition, during the course you learn dive leadership skills through both classroom and independent study, in our diving school.
You will also complete water skills and strength exercises. Furthermore, you will also do training exercises to improve your problem solving skills.
Finally,you will put what you have learnt into action through a series of practical training classes.
Our DiveMaster Schedule
The transfer will pick you up and drop you off at the boat each day. This course is 10 days and includes lunch and soft drinks on the boat. The boat usually leaves the marina around 09:00am and returns around 4pm. Please remember to bring a towel and 2 passport photos with you. In addition, the manuals for this course are not included in the course price listed.
In this course you will complete your skills from previous courses as well as new ones. Your training will also included drawing maps and learning how to brief guests. You must also swim 400m without equipment and 800m with fins and mask. Furthermore, your instructor will teach you the organisational skills needed to be a dive master. You will shadow your instructor throughout the course and you will be a supervised dive guide. Your instructor will also give you points for each new skill you complete. In conclusion, at the end of the course you will take a final written exam. Moreover, the points you collected in the course will be added to your final grade.
What am I certified to do after finishing?
Overall, the PADI Dive master course teaches you to be a leader and take charge of dive activities. In conclusion, you will develop the skills to organize and direct different diving activities. This includes:
The job of the PADI Dive master.
Over see dive activities and assist student divers.
Diver safety.
Dive master programs and specialized skills.
Business of diving.
Understanding  the dive environment.
Dive setup and management.
Mapping an open water site.
Manage dive briefings.
Organize a search and recovery project and a deep dive.
lead a scuba review and skin diver course.
Assist with Discover Scuba Diving and leading Discover Local Diving programs.
What you need to take this course:
To take this course, you must be:
18 years old.
A PADI Advanced Open Water Diver (or qualifying certificate from another training organization.)
A PADI Rescue Diver (or qualifying certificate from another training organization.)
An Emergency First Response Primary and Secondary Care (or qualifying first aid and CPR training from another organization) course completion within the past 24 months.
Have at least 40 logged dives to begin the course and 60 for the certificate.
Be fit for diving and submit a Medical Statement signed by a doctor within the last 12 months.
10 Days
Price : 900€ with Course Manual
INCLUDED
Transfer to and from the boat from within Hurghada everyday is included.
Lunch and hot and cold beverages are included on the boat. Vegetarian/Vegan options are also available (please notify staff in advance.) Please inform staff before your arrival if you have any allergies we should be aware of.  Course By
Equipment Rental : 20€ per day
107 Abu Ramada Street - Beside Meraki Hotel