Scuba Diving in Hurghada with Diving Star
Looking for a Scuba Diving experience you'll never forget?
Your search ends here at Diving Star in Hurghada! Enjoy the adventure of a lifetime with our team of professional divers.
Forget your Troubles and blow some Bubbles ^_^
Daily Dive
Dive Courses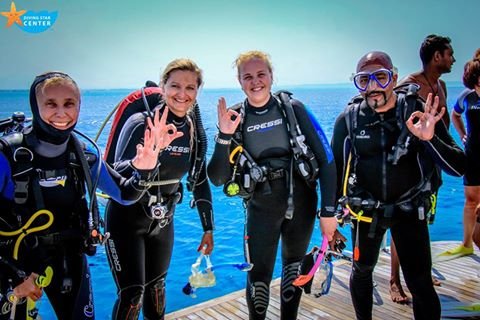 Scuba Diving in Hurghada With us
We offer a variety of diving services in hurghada that include Diving Courses , Daily Dives, Diving Packages, Safaris and so much more, we can even provide you with the necessary skills and qualifications to become part of the worldwide PADI family with our extensive Scuba Diving Courses in hurghada Programmes.
At diving star Diving Center in Hurghada we pride ourselves in being one of the few centers in hurghada that provides the highest standards of safety and professionalism, we promise you an all round exellent scuba diving experience where you are guaranteed to enjoy some of the most beautiful diving sites the red sea has to offer.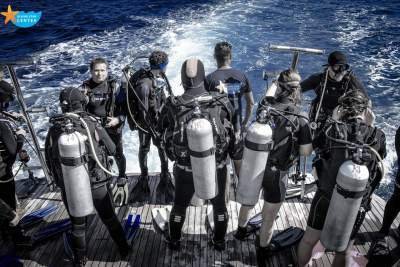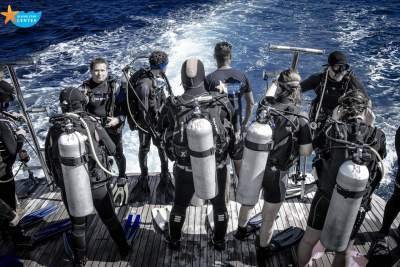 Daily Dive
We recommend our daily dive programs to any professional divers who would like to join us on our Scuba Diving trips in Hurghada, the diving sites are chosen once everybody is on board and the locations vary depending on the level of divers and the weather condititions of the day, these factors are considered to select the most appropriate locations for each trip. Generally we try to keep our diving locations as diverse as possible and group our divers in teams based on experience. The number of times you would like to venture with us is entirely up to you however if you would like a rich and intensive experience of the various diving sites in red sea hurghada, we highly recommend you book one of our daily dive packages.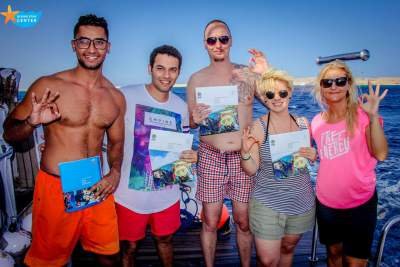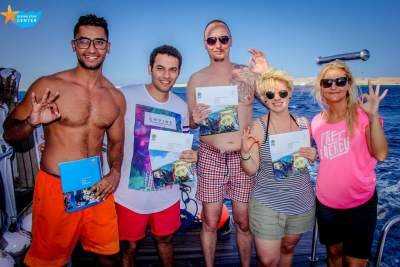 Dive Courses
At Diving Star Hurghada we offer a wide spectrum of courses from Open Water course in hurghada to Master Diver in hurghada, our center provides a diverse team of instructors who are trained at the highest professional standards available in Hurghada, and will supply you with all the training and equipment you need to qualify for all aspects of the course in a safe and enjoyable environment.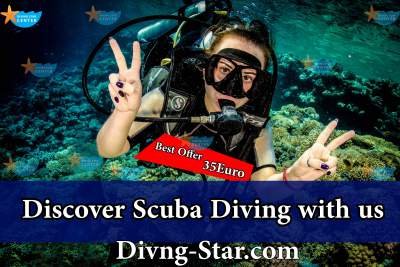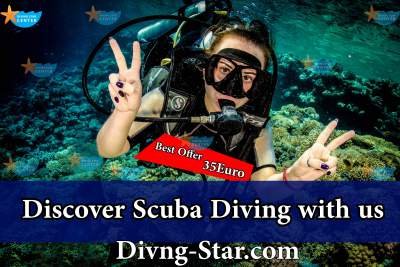 Introduction Dive
If you are looking for an experience that allows you to enjoy the fascinating beauty of the pristine coral reefs of the red sea in hurghada, and the vast diversity of its aquatic creatures, then Introductory Dive is the right option for you. This program includes two dives where you are introduced to the basic principles of scuba diving and provides you with a window into the scuba diving world. For first time divers that first breath underwater is unforgettable, our professional team of scuba divers will guide you through this window to ensure that your experience is both as safe and as enjoyable as possible.
Diving Packages
Enjoy the most popular red sea dive packages for the lowest prices Choose the diving package that is right for you, experience some of the most popular diving sites in hurghada and top quality service at diving star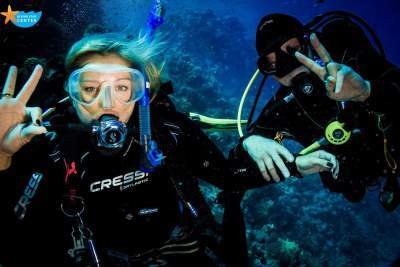 3 Day
Fabulous 6 daily diving package Incl.
Two daily dives in different sites. Daily

Launch and all day soft drinks

Transportation to and from the boat will be provided within hurghada

Full equipment not included.
5 Day
Fabulous 10 daily diving package Incl.
Two daily dives in different sites.

Daily Launch and all day soft drinks.

Transportation to and from the boat will be provided within hurghada

Full equipment not included.
7 Day
Fabulous 15 daily diving package Incl.
Two daily dives in different sites.

Daily Launch and all day soft drinks.

Transportation to and from the boat will be provided within hurghada

Full equipment not included.
Become a Certified Diver with the PADI Open Water Course in Hurghada with Diving Star Today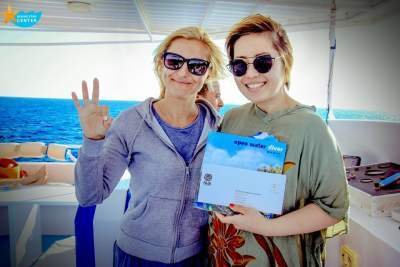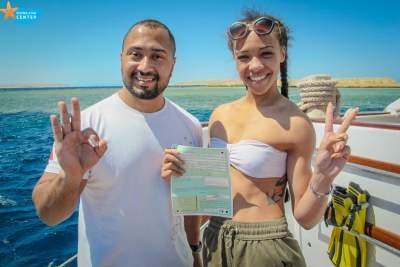 The Way The World Learns To Dive
Diving Star Hurghada Diving Center
We don't just aim to be a market leader, but to raise the standards of our divers and staff through professional services, innovation and customer service. Every one of our customers is treated as a friend and a lifelong member of the Diving Star Center family in hurghada, without our customers we would not be able to share what we love most, the Red Sea.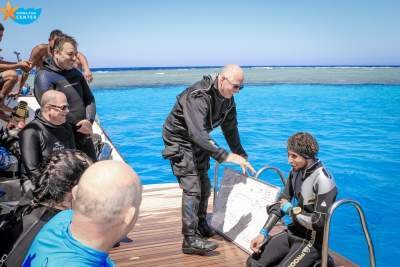 Your safety comes first and foremost, all Diving Instructors and Dive masters are trained in first-aid.
All our dive boats have a radio, first-aid box, life vests and oxygen. In order to prevent diving accidents, it is imperative, that you follow the instructions of our Diving Instructors and the safety guidelines of our Diving Center.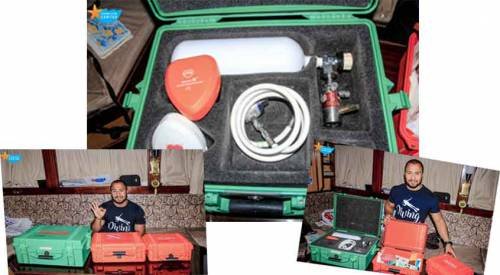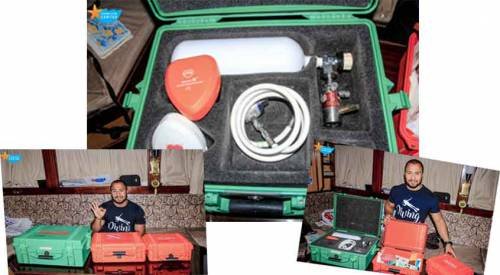 Our Boat
We proudly present our Sweet Maya, a 27m x 7.20m beauty with two floors, the bottom deck includes a kitchen where our chef prepares a delicious meal for you ready for when you return from your first dive, and a saloon where you can have your dinner comfortably and relax on one of the sofas out of the sun if the heat becomes too much for you. In the area just outside the salon is also where we safely store all of our diving equipment, dive tanks are secured with tank holders full and ready for you to use. On the top deck is the captains bridge, it is also full of sofas with a roof over to enjoy the view out of the sun and other exposed areas as well with sun beds for those who would like enjoy the sunshine and do a little sunbathing as well.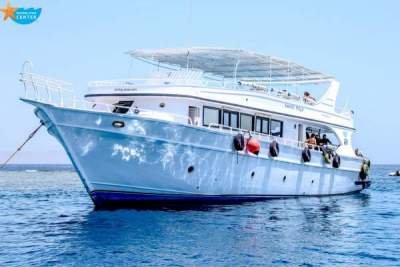 Why dive with us?
Experience and knowledge of the Red Sea for over 15 years.
We organize your dives according to your desires and wishes.
Diving on the best Hurghada's spots.
Our slogan: Safety first, quality, comfort, flexibility and fun!
About Hurghada City
Enjoy scuba daily diving in hurghada, night diving, wreck diving, snorkeling, PADI diving courses in hurghada and liveaboard safaris in Hurghada, Red Sea, Egypt. The city was founded in the early 20th century and was a small fishing village until a few years ago. Since the 1980s, it has been continually enlarged by Egyptian and foreign investors to become the leading coastal resort on the Red Sea. Holiday villages and hotels provide aquatic sport facilities for windsurfers, kitesurfers, yachtsmen, scuba divers and snorkelers. Hurghada is known for its water sports activities, nightlife and warm weather. Daily temperature hovers round 30 °C (86 °F) most of the year. Diving Star Diving Club founders are Hurghada. We can refer that we really know our beloved city, its sea shore and coral reefs. The Red Sea is our home, our mission is to entertain our guests, give them the best diving experience, save our beautiful nature and give to the next generation a chance to enjoy what we love.